Zion Lutheran is at 435 Main Street, Akron, PA 17501
Zion Lutheran: 128 years on Main Street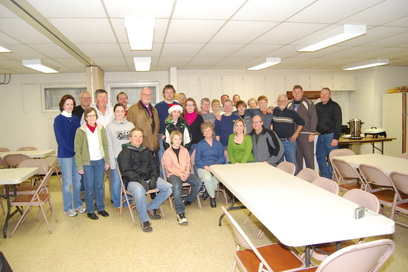 Chartered in 1889, Zion's Evangelical Lutheran Church has served as a worshiping congregation for over 120 years. Zion is a member congregation of the Evangelical Lutheran Church in America, a Christian denomination of over 4.4 million people.
Akron is a small boro and Zion is a small congregation. Throughout parts of its history, Zion was "yoked" to other local Lutheran congregations; Salem in Lincoln, Jerusalem in Rothsville. These congregations shared pastoral leadership and some programs. Zion has existed as a self-sustaining congregation for about 40 years, with its own pastoral leadership and programs.
Today, Zion Lutheran offers weekly worship, Christian education, and neighborhood ministry. We are blessed by our long heritage as we continue to serve God and Akron as good neighbors on Main Street.
---
---
Our Pastor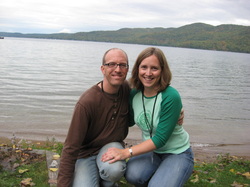 Pastor Matt and Cherie in the Adirondacks
The Reverend Matthew Lenahan was ordained in 2001 and has served at Zion since 2005. A lifelong Lutheran Christian, he is married to Cherie since 1999. They have three children. Pastor Matt is a mission-focused leader, inviting and challenging God's people to participate in God's redemptive work in and for the world. His gifts are in evangelism, worship leadership, and teaching. He has passion for advocacy, social/economic justice, and food. He loves gardening, hiking and any outdoor activities. He believes the church is called to serve all people following the example of Jesus Christ. Pastor Lenahan serves on the board of hunger Free Lancaster County. He also project manages the Wittel Farm Growing Project. He serves as a mentor with Lancaster Reentry Management Organization.
---
OUR STORY: THE LUTHERANS

What are Lutherans all about?
We are a reforming movement within the catholic church. Our roots date to the 16th century Reformation, started in Germany by Rev. Dr. Martin Luther. We are shaped by our history, but not bound by it. Reformation and renewal characterize the church's existence in the world.
Our faith is rooted in the biblical story. The bible is the inspired Word of God and the gospel is God's story of love and grace to the whole world. Jesus Christ is God's Word in the flesh. The Bible is a library of diverse literature written over many centuries. We understand that the Bible reveals God to us in poetry, songs, prayers, histories, law codes, letters, gospels, parables, and proverbs. We do take the bible seriously, because through it God speaks to us today. Faith comes by hearing the Word of God. In it we hear God's promises, God's commands, and the unfolding story of God's creative and restorative intentions for the world. We are part of God's story! The Bible is not an encyclopedia or a text book. The Bible is ancient and foreign, inspiring as many questions or mysteries as it does answers. Check out the book of faith initiative and sign on!
We confess our faith in God with the help of ancient creeds. The apostles' and Nicene creeds (click to read the creeds) verbally connect us to a deep faith ancestry that includes the family of Abraham, Mary, Joseph, Jesus, and the saints of the early church. These creeds teach us what it means to believe in God.
We are Jesus' people, disciples and followers of the risen Lord. His Spirit dwells in us, inspiring us to live like Him .
We are Sacramental Christians. God comes to us, makes a dwelling with us, claims us as God's own, and nourishes us with spiritual food and drink. Baptism and the Lord's Supper are the means by which God adopts us, welcomes us, calls to us, invites us in, forgives us all our sins, and frees us to live by the example of Jesus. All people are welcome to the waters of Holy Baptism, because God has chosen to love the world. All baptized Christians are welcome to the Lord's table as a sign of communion with the risen Lord Jesus. In every case, God chooses us as His own people. This is what is meant by the language of being "saved by grace." God acts on our behalf. We are grateful recipients.
The church is the assembly of all believers where God's Word is proclaimed and the sacraments are given and received.
The church is a people called to evangelical mission as bearers of gospel or good news for all people. God's mission is radically inclusive, offering peace to all people regardless of race, tribe, or sexual orientation. The cross reminds us of our brokenness and our failure to love others, including our enemies.
The church is called to seek justice and mercy for the poor and the oppressed. God is committed to the plight of those who suffer. Martin Luther said, "One does not know Christ who does not know God hidden in suffering." To know Jesus is to have knowledge of suffering, to have compassion for those who suffer, and to offer comfort and hope to a suffering world.
The church demonstrates the gospel in word and deed.
The church's mission includes responsible stewardship of the earth, its sanctity and created goodness, and all its resources.
Christians pray. We speak and we listen for God. Jesus teaches us how to pray. A praying church practices prayer. Join us to learn how to pray.
The church is one body with many expressions. Congregations are the most local expression of church. Together, many congregations in a given place form a synod. We are part of the Lower Susquehanna Synod. 65 synods form the Evangelical Lutheran Church in America. There are over 10,000 congregations and approximately 4.6million baptized members in the ELCA.
---